Live Cinema Summits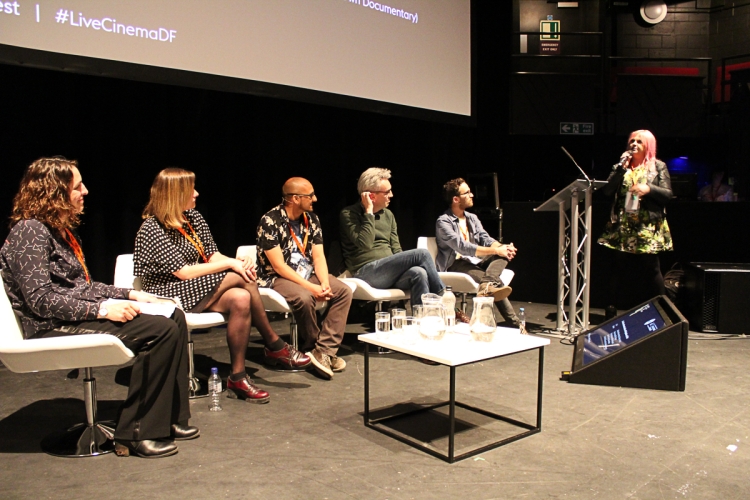 Every two years since 2016 we've held an event bringing together the live cinema sector, including practitioners, exhibitors, musicians and artists to discuss the future of experiential and augmented cinema.
Our first Live Cinema conference was at King's College London in May 2016, followed by the inaugural Live Cinema Summit at Sheffield Doc/Fest in 2018, in partnership with The Live Cinema Network, King's College London and the University of Brighton.
Live Cinema III: Festival of Research and Innovation 2020 addressed artistic and technological advances in the field of live cinema: film screenings augmented through live or immersive elements, including site-specific locations, technological intervention and digital participation. This event was a collaboration between Live Cinema UK, King's College London and the University of Nottingham.
The festival profiled the growing prominence of live cinema phenomena within the global film experience economy and highlighted contemporary artistic and technological innovation as well as situating these current phenomena within their appropriate historical contexts.
The festival featured cutting edge academic research, master classes, workshops, a programme of screenings, Q&A sessions and world premieres of exclusive live events.
Live Xinema IV: a festival of research and innovation exploring the role of hybridity and liveness in the future of cinema took place in September 2022. Convened by the University of Nottingham in partnership with Live Cinema UK, the event built on the successes of our three previous Live Cinema conferences in 2016, 2018 and 2020.
The 'Xinema' in this conference's title reflected the hybrid nature of the event (across platforms) and expressed the sense of a crossroads, of converging and diverging paths of development and innovation.
The events have been supported using public funding by the National Lottery through Arts Council England, and received hundreds of submissions to panels, workshops, networking and world premiere live performances.
BACK TO OUR WORK