Live Xinema IV 2022
Posted on 6th June 2022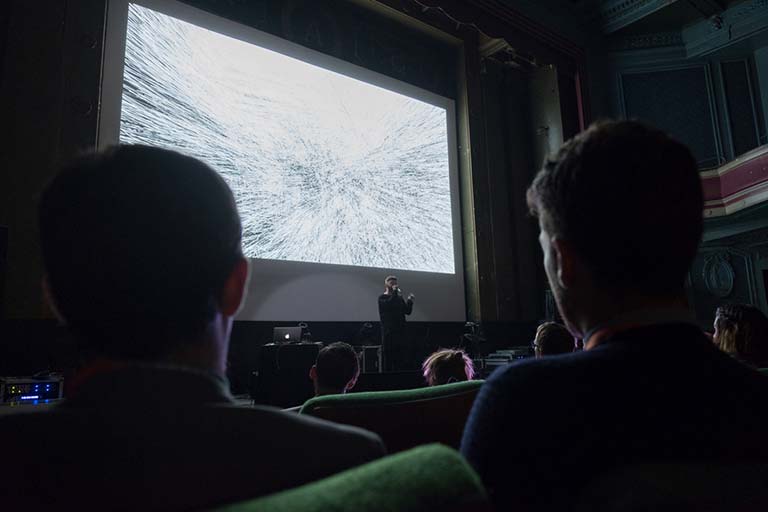 Live Xinema IV: a festival of research and innovation exploring the role of hybridity and liveness in the future of cinema took place on Wednesday 21st to Friday 23rd September 2022. Convened by the University of Nottingham in partnership with Live Cinema UK, the event built on the successes of our three previous Live Cinema conferences in 2016, 2018 and 2020.
The 'Xinema' in this conference's title reflected the hybrid nature of the event (across platforms) and expressed the sense of a crossroads, of converging and diverging paths of development and innovation. Live Xinema 2022 took place in hybrid form, as a physical event at Broadway Cinema Nottingham, with additional activity in a 3D virtual events platform called Bubbles.
Day 1 opened with the panel Performance in the Metaverse, taking place in the new online immersive platform Bubbles developed by the Mixed Reality Lab at University of Nottingham. On Day 2 , full passholders had the option to move to University of Nottingham, or online, for a day of cutting-edge research presentations covering everything from use of holograms in ABBA's Voyage show, to use of AR in cinema, 'live' documentary, and the hybrid work of immersive audio pioneers Darkfield.
Posted in News & Events
Want to partner with us?
We're always looking for new partners and projects and are happy to talk about anything and everything live cinema related.
Email us: info@livecinemauk.com
Latest posts
Categories
Archives