BFI Musicals: Hedwig and the Angry Inch National Tour
Oct 5, 2019
Sheffield, Manchester, Cardiff, Belfast
Live Cinema UK were delighted to take part in BFI Musicals. BFI Musicals celebrated the spectacle and craft of Musicals on film. A Nation-wide cinema season, led by the BFI, the Independent Cinema Office and the Film Audience Network, supported by funds from the National Lottery. Live Cinema UK have delivered leading events to audiences of over 20,000 across previous BFI Blockbuster seasons including Sci-Fi: Days of Fear and Wonder, Love, Black Star and Comedy Genius. This year, …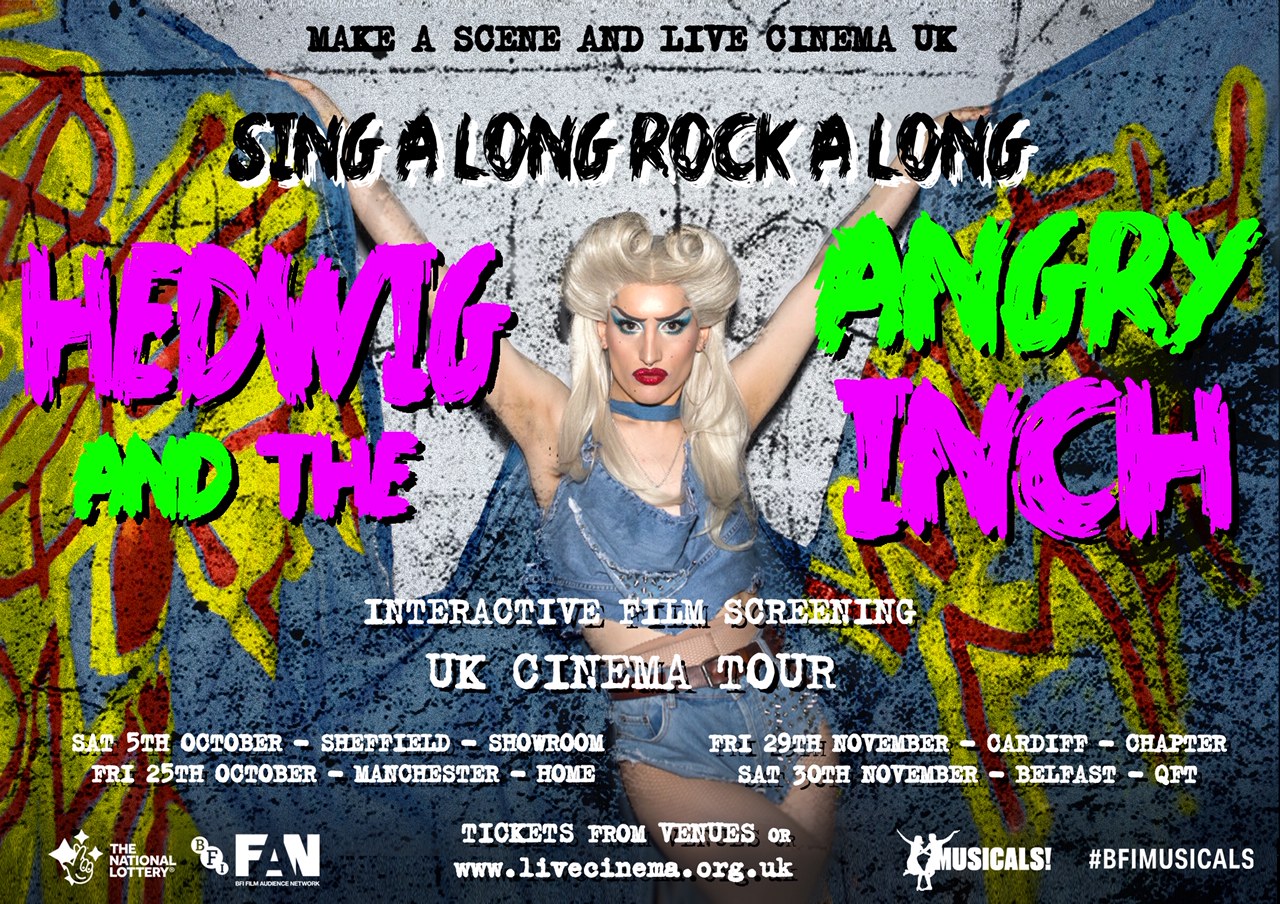 Live Cinema UK were delighted to take part in BFI Musicals. BFI Musicals celebrated the spectacle and craft of Musicals on film. A Nation-wide cinema season, led by the BFI, the Independent Cinema Office and the Film Audience Network, supported by funds from the National Lottery. Live Cinema UK have delivered leading events to audiences of over 20,000 across previous BFI Blockbuster seasons including Sci-Fi: Days of Fear and Wonder, Love, Black Star and Comedy Genius. This year, we are offering three incredible immersive, all-singing all-dancing events to venues nationwide.
In partnership with Make A Scene, we produced a national film tour of Queer cinema cult-classic, Hedwig and the Angry Inch. Each screening included a live performance element, hosted by Make a Scene Manchester and international performer and trans drag icon Grace Oni Smith, these screenings followed in the tradition of Make a Scene's previous interactive screenings, such as Showgirls and Little Shop of Horrors.
HEDWIG AND THE ANGRY INCH
Director: John Cameron Mitchell / USA / 2001 / 95 mins / Rated 15 / Trailer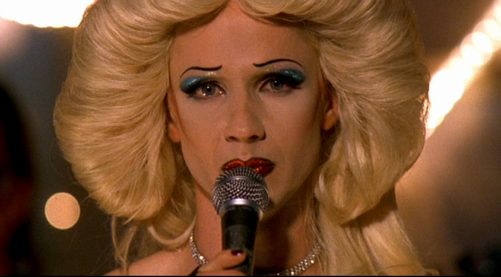 Adapted from the critically acclaimed off-Broadway rock theatre hit, this is the story of an 'internationally ignored' rock singer, Hedwig. Surviving a botched sex change, she search for love and liberation through her songs. This was a chance to see John Cameron Mitchell's underground queer rock musical as you'd never experienced it before. Grace Oni Smith performed as the internationally ignored songstress herself whilst Hedwig was given a full raucous, way-too-interactive treatment with audience participation, singing along, dressing up and the chance to join backing band The Angry Inch.
TOUR DATES
Saturday 5 October: Showroom Cinema, Sheffield
Friday 25 October: HOME, Manchester
Friday 29 November: Chapter, Cardiff
Saturday 30 November: Queen's Film Theatre, Belfast
Presented In partnership with Live Cinema UK and Make A Scene.
Screening as part of BFI Musicals! The Greatest Show on Screen, a UK-wide film season supported by National Lottery, BFI Film Audience Network and ICO. bfimusicals.co.uk

BACK TO EVENTS