Listen Now: Headsets Make Us Throw Up – SXSW Panel 2022
Posted on 30th March 2022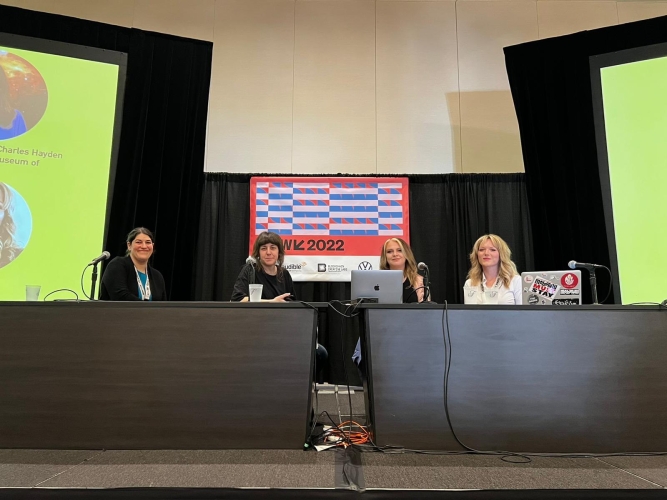 We were thrilled to present our panel – HEADSETS MAKE US THROW UP – at SXSX 2022 in Austin, Texas. You can now access the audio and listen to the full panel online.
Does Virtual Reality really have to be exhibited in a headset? This panel explored the immersive environments that allow 360 degree and VR content to be consumed by a collective audience. Bringing together 360 visual artists, immersive content exhibitors and sector researchers, we directly challenged the headset's role in delivering new VR and 360 degree content, arguing the case for domes, arcades, live elements, and location-specific experiences. Challenging the trend for social isolation in VR experiences, we presented real world examples of VR working beautifully outside a headset. We looked at the limitations of headsets compared with live immersive experiences, advocating for development of 'shows' in VR, rather than just plugging in via a headset.
Live Cinema UK's Lisa Brook and Kate Wellham were joined by Danielle Leblanc from The Museum of Science Boston's Charles Hayden Planetarium and Janire Najera from Cardiff's CULTVR Immersive Research Lab.
LISTEN NOW:
Posted in Events, News & Events, Research
Want to partner with us?
We're always looking for new partners and projects and are happy to talk about anything and everything live cinema related.
Email us: info@livecinemauk.com
Latest posts
Categories
Archives