Live Cinema UK launches Immersive Experiences 101 training
Posted on 13th December 2022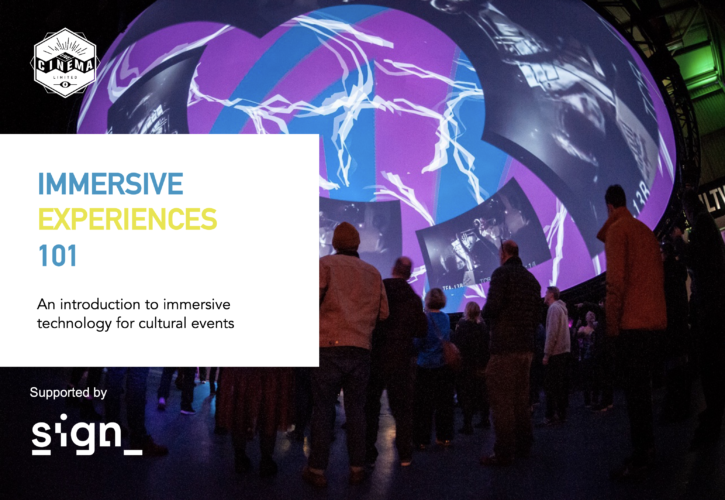 Are you a creative professional who wants to use immersive technology in your work but feels underprepared, confused or excluded when it comes to getting started?
This free introductory session is for artists, filmmakers, producers or exhibitors in Yorkshire who want to create or show immersive film of any kind, but don't know where to start.
We'll give you an overview of the variety of audience experiences on offer through the different forms of technology available. Looking at case studies of projects which use VR, AR, AI, immersive screens, live streaming and motion capture, we'll discuss what each of these technologies can add to your audience's experience.
Together we'll break down the steps needed to make and exhibit work using each of these pieces of technology, and help you decide which is best for you and your work.
Applications are open to all Yorkshire creators, producers or exhibitors of film in the region, but we particularly welcome applications from anyone who feels they are underrepresented in the immersive technology sectors.
Please register your interest for Part One by 12 noon on 18 January 2023.
Part One
This two-part course will include one full day at the University of York on Wednesday 25 January where we will hear from creative practitioners who have incorporated different forms of immersive tech into their own work. We'll find out about projects using 360 degree footage, motion capture, headsets, fulldome screens and AI to create specific audience experiences. We'll also explore the workflows required to use different forms of tech, and the kinds of expertise and roles required.
Part Two
Participants from Part One of the course will be invited to apply for Part Two. This will take place in Cardiff at CultVR Lab over 1.5 days arriving in Cardiff on Monday 27 February to Wednesday 1 March. Participants will get the opportunity to talk to immersive content producers and creative technicians, and get hands-on with motion capture, 360 degree video, and immersive screens. Places for part two are much more limited than Part One, and participants will be encouraged to apply for Part Two with a specific project in mind that they would like to explore. All travel and accommodation costs for this second part of the course will be fully covered by our funding.
Supported by the Screen Industries Growth Network, using public funding by Research England, part of UK Research and Innovation. SIGN is based at the University of York.
Posted in Training
Want to partner with us?
We're always looking for new partners and projects and are happy to talk about anything and everything live cinema related.
Email us: info@livecinemauk.com
Latest posts
Categories
Archives