The Unfilmables with Francesca & Mica Levi and Wrangler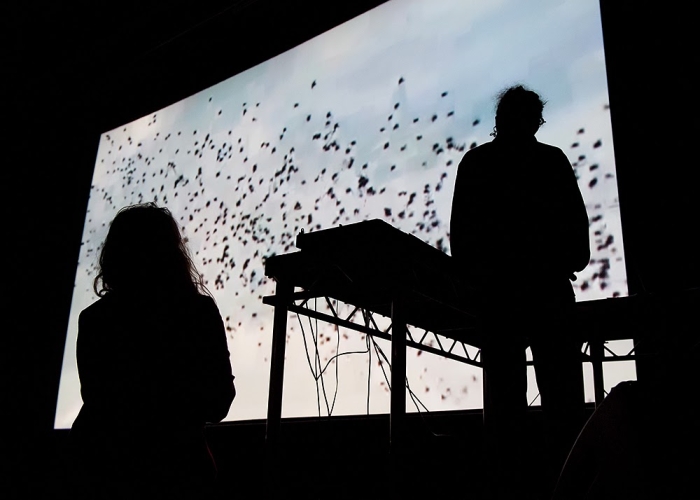 Live Cinema UK and creative producer Colm McAulliffe commissioned the original work The Unfilmables with Wrangler (Cabaret Voltaire's Stephen Mallinder, Benge and Phil Winter from Tunng) and Academy Award nominee Mica Levi (Under the Skin OST, Jackie OST, Micachu & The Shapes) in collaboration with her sister and video artist Francesca Levi.
The history of cinema is teeming with stories of wild and wonderful films which never quite made it to the finish line. Films such as Stanley Kubrick's Napoleon, David Lynch's Return of the Jedi and Alejandro Jodorowsky's Dune are famously unproduced masterpieces; masterpieces simply because they can only ever exist in imagination… until now.
Live Cinema UK tasked Wrangler and the Levi sisters to tap into the a imagination-firing quality of these 'what if?' scenarios and create highly original, artful and fantastic musical and visual impressions of some of the greatest films which were never made.
The new 'films' The Tourist (Wrangler) and The Colour of Chips (Francesca and Mica Levi) were presented as two new live performances in Manchester, Brighton and London in May and June 2017. The project has been in development for the last year and is produced by Lisa Brook, Director of Live Cinema UK, and Colm McAulliffe in partnership with CineCity Brighton and HOME Manchester, and is supported by the This Way Up Exhibition Innovation Fund , part of the BFI Film Audience Network, and Arts Council England.
For booking enquiries, please email lisa@livecinema.org.uk
The Tourist
As imagined by Wrangler. Visuals by Tash Tung and Dan Conway.
Regarded by many as one of the greatest sci-fi scripts never made, The Tourist tells the story of a sex-charged alien underworld in the heart of Manhattan. Having attracted attention from luminaries of the film world including visionary director Francis Ford Coppola and Quadrophenia's Franc Roddam, the film ultimately fell into production limbo.
Centred around Stephen Mallinder's position as one of the world's foremost electronic music pioneers through his work with Cabaret Voltaire and featuring Phil Winter of Tunng and acclaimed electronic producer Benge, Wrangler will provide a live soundtrack to the dark script with visuals from Tash Tung and Dan Conway.
Stephen Mallinder of Wrangler says:
"The idea of 'imagining' a film that has never actually been made is fascinating if a bit daunting. It was always going to be a sci-fi film I think as it lent itself to our live 'electronic' sound.
It's not an attempt to make the film but rather abstract the ideas behind it – to reduce the original design and story to a series of visual and sonic cyphers – an alien lost amongst us.
I loved the very sultry and eerie feel of Clair Noto's story but we've switched from a sweltering Manhattan in the 80s to dark dystopian London (understandably). What happens is a live visual mix with an improvised electronic soundtrack to compliment what is happening on screen.
I thought the Tourist's intent to spotlight "corruption, humanity and xenophobia, of human vs. alien struggling to co-exist on Earth" seemed very pertinent right now."
The Colour of Chips
As imagined by sisters Francesca and Mica Levi.
Based on the brilliant Armenian filmmaker Sergei Parajanov's most famous work The Colour Of Pomegranates – Oscar nominated composer and Micachu & The Shapes bandleader Mica Levi and her sister Francesca Levi's The Colour Of Chips reinterprets the obscure gem as a lost British classic set in the North of England.
Francesca Levi says "we felt that British life being depicted in such a way has not yet existed. I was thinking of utilising the everyday rituals of modern urban life in the UK and using the tableaux technique deployed by Parajanov. I am always interested in the extraordinary in the ordinary."
All media enquiries should be directed to Zeitgeist Agency.
BACK TO OUR WORK