The Time is Now: Suffragette Live!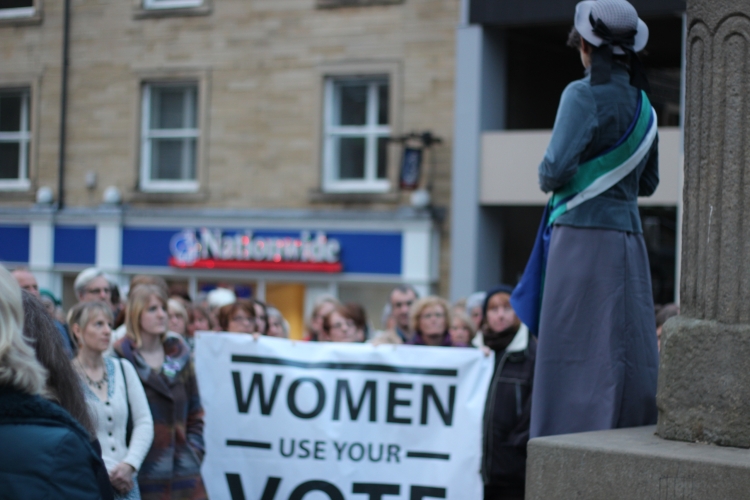 Suffragette: Live! Was produced by Live Cinema UK as part of the BFI-funded The Time Is Now season in 2015 in partnership with Film Hub North, Sneaky Experience and the Lawrence Batley Theatre.
The sold-out event in October 2015 in Huddersfield invited audiences to walk in the footsteps of Emmeline Pankhurst herself with a special promenade performance through Huddersfield before the first West Yorkshire screening of Suffragette – the first feature film to tell the story of the fight for votes for women.
Beginning at St George's Square in Huddersfield, an immersive promenade performance followed the Huddersfield Suffragette Trail, with audiences being greeted by characters including Emmeline Pankhurst and Huddersfield's own Dora Thewlis, the 'baby suffragette'.
With stopping points including Market Place monument and the Town Hall, audience members walked in the footsteps of Emmeline Pankhurst herself, who made a prominent visit to the town in 1906 at the start of the Suffragette movement.
The event culminated with a scripted performance at the Lawrence Batley Theatre prior to screening of Suffragette, presented as a preview on DCP courtesy of Fox/Pathe.
The project presented a number of firsts for Live Cinema UK:
Production for a new release film (Suffragette) working directly with a distributor (Fox/Pathe)
Production based on a serious subject matter as opposed to cult or musical inspiration: women's suffrage
First town centre promenade performance, requiring additional buy in and licensing from the local council
Technical provision for a non-theatrical venue: managing DCP projection install with Urban Entertainment.
BACK TO OUR WORK