The Big Love Tea Dance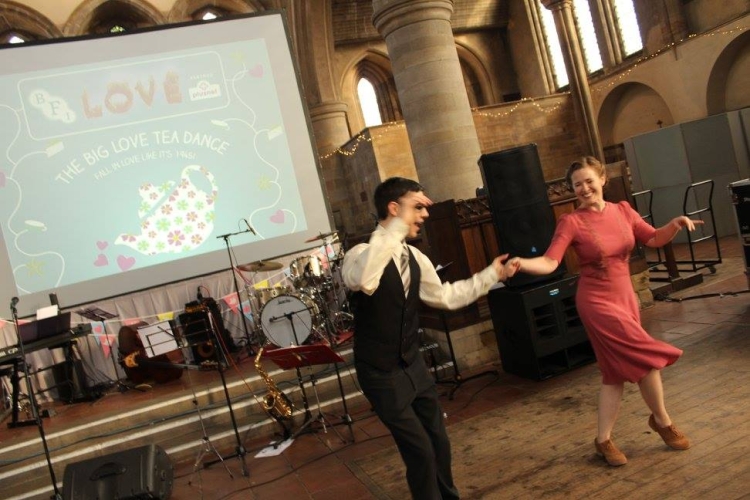 As part of BFI LOVE, The Big LOVE Tea Dance led by Live Cinema UK and Leeds International Film Festival took place in November 2015 across the country. The national event included a live cinema experience complete with dancing, music and food to transport audiences back to 1945 before a screening of the newly restored timeless classic Brief Encounter (1945), hitting screens this November with a newly restored digital print.
The lead event took place during the Leeds International Film Festival on Saturday 7th November in the grandeur Grade II listed church-turned-arts centre Left Bank Leeds, evoking the vintage afternoon tea dance of the 1940s, complete with dance lessons and live music prior to the screening.
This event was replicated in other venues throughout November across the Film Audience Network from Somerset to Scotland, with live music and afternoon tea being served at screenings in community cinemas, theatres and even train stations across the country including:
The Black Box, Belfast: Saturday 7th November
Penarth Pier Pavillion, Penarth: Sunday 8th November
Signal Film and Media, Cumbria; Tuesday 10th November
Metal at Edge Hill Station, Liverpool: Wednesday 11th November
Dunlop Community Cinema, Ayrshire: Sunday 15th November
The Roses Theatre, Tewksbury: Tuesday 17th November
Metamorphosis Open Cinema, Lancaster Library, Lancaster: Tuesday 17th November
The Continental, Preston: Tuesday 24th November
Curzon Community Cinema, Clevedon: Sunday 29th November
Part of BFI LOVE, in partnership with Plusnet bfi.org.uk/love
BACK TO OUR WORK