Other Rooms live cinema programme, Square Chapel, Halifax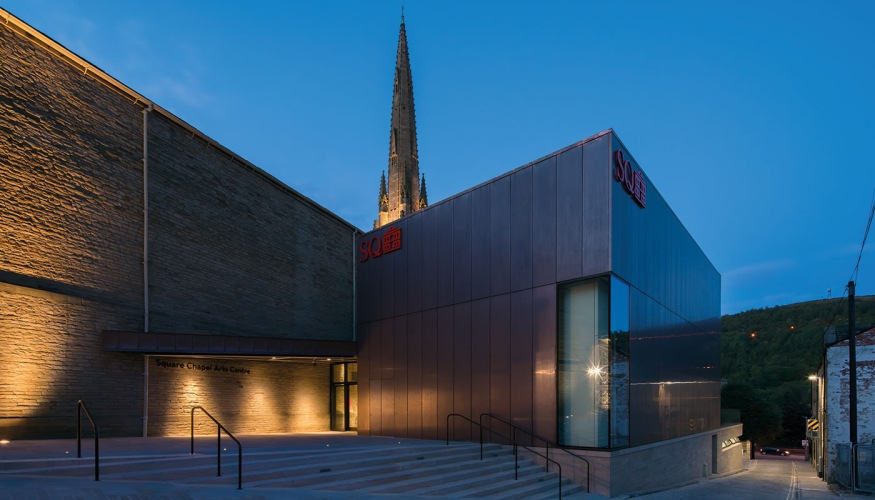 Square Chapel in Halifax headed off-site for the whole of September, 2016 taking a host of timeless films to venues all around town. Live Cinema UK supported the Square Chapel team with programming and licensing consultancy, experience and production design as well as marketing support for the season of inventive pop up cinema in unique locations.
The 'Other Rooms' programme featured films for audiences of all tastes and ages, from U-rated screenings suitable for little ones, right up to adults-only showings for 18s and up.
The programme included such enticing combinations as Blair Witch Project in the atmospheric setting of an amphitheatre in Cunnery Woods, Goodfellas in an Italian restaurant, The Shining in a hotel, and Rocky in a boxing gym.
Full breakdown of film activity for the Other Rooms season:
12 Angry Men (U)
Twelve men must decide the fate of one when a juror objects to the jury's decision in this compelling courtroom drama.
Location: Halifax Town Hall
Goodfellas (18)
Watch one of the greatest gangster films with this live cinema experience. This year marks the 25th anniversary of Martin Scorsese's Goodfellas starring larger than life mobsters Joe Pesci, Ray Liotta and Robert De Niro.
Enjoy dinner and watch this film with some brutally funny moments all with the backdrop of a traditional Italian restaurant.
Location: Romeo & Juliet Restaurant, Halifax
Northern Soul (15) & Northern Soul Night
Set in 1974, this is an authentic and uplifting tale of two friends whose horizons are opened up by the discovery of Northern Soul music, the sounds that moved a generation, literally.
If you were there you'll know, and if you weren't you can experience it with a live DJ and dance fuelled night at the Arden Road Social Club. Bring your dancing shoes!
Location: Arden Road Social Club
The Blair Witch Project (15)
In 1994, three student filmmakers disappeared in the woods while shooting a documentary.
A year later that footage was found and now you're invited on an evening camping trip to see the footage and find out what happened.
Experience The Blair Witch Project at Cunnery Woods, Shibden – the ultimate experience for horror fans and not for the faint-hearted!
Location: Cunnery Woods, Shibden
The Shining (18)
If you have writer's block or just want to get away with your family this September, then this is the perfect retreat.
Based on Stephen King's novel, directed by Stanley Kubrick and starring Jack Nicholson, The Shining is the ultimate horror film and will be recreated with its famous ballroom scene in the Tower House Hotel – and you're invited.
How will you react when you unravel the hotel's dark secrets?
Overnight package deals available: please book directly through Tower House Hotel via their website or by calling 014 22 345000.
Location: Tower House Hotel
Rocky (PG)
Get your ringside seats and watch the awe-inspiring story of one hero's unforgettable journey.
It doesn't matter if you're an amateur, the underdog or the champ, you will want to experience this film full of determination and focus and what better place to see the number one boxing film than in Halifax's number one boxing gym.
Relive the film, with music by a live brass band and smell the sweat in this action packed live cinema experience.
Location: Halifax Amateur Boxing Club
Harry Potter and The Philosopher's Stone (PG) (Screening, Lunch & Live Experience)
Hogwart's Great Hall will be recreated at The Arches, Dean Clough, and all families with wannabe wizards are invited. Sign up for broomstick and wand making lessons – or even learn how to make potions from Professor Snape himself.
Grab your cloak and strike a pose in the Hogwarts photobooth. There's no better place to meet your favourite characters and see live owls, and to tuck into a delicious lunchtime feast, than in this converted Victorian mill.
If reading Harry Potter And The Cursed Child has left you yearning to depart the world of the muggles, this is the event for you.
Location: The Arches, Dean Clough
Nosferatu (U)
Based on Bram Stoker's novel, see this poetic fantasy horror take on the Dracula myth.
Nosferatu's vampire brings hordes of disease-carrying rats which infect the town as he arrives by sea on the ill-fated Demeter.
Don't just watch the film, instead experience it again but this time with a live organ playing and in the eerie candle lit setting of the Halifax Minster.
Location: Halifax Minster
BACK TO OUR WORK