Live Cinema EU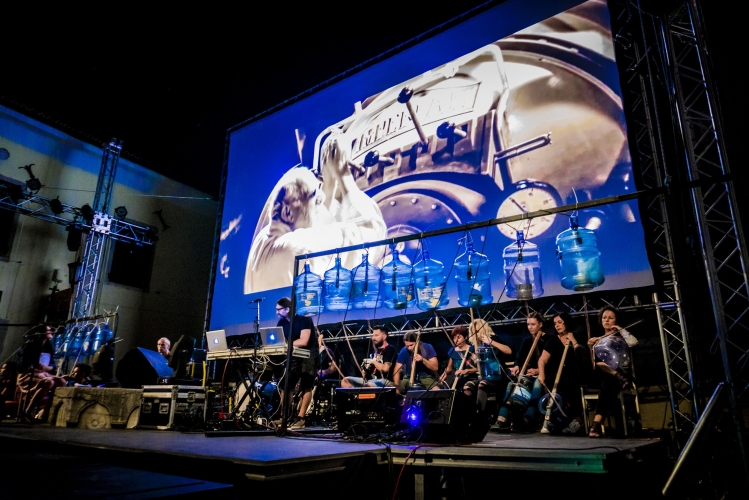 Co-funded by the Creative Europe programme of the European Union, Live Cinema EU took place between November 2016 and November 2017.
The project brought together or the first time international leaders in creating live cinema events (film screenings enhanced with live music, theatrical performance or increased audience participation), to explore whether audience size for European films can be increased through the development of live elements at film screenings as part of core festival programming.
Among our projects was a co-commission of TUVALU + live score, which premiered at Motovun Film Festival 2017 as part of the Creative Europe-funded Live Cinema EU programme, and held its UK premiere in Hull, UK City of Culture 2017.
Combining film, live music and audience participation, the modern silent film received a brand new soundtrack performed live by Mr Lee & IvaneSky, the collaboration of two of Croatia's leading musical artists Damir Martinović 'Mrle' (frontman of Croatian rock pioneers Let 3) and Ivanka Mazurkijević.
Audience volunteers accompanied them onstage playing their unusual handmade instruments, and all attendees were able to be part of the score using their mobile phones, with interactive elements that cued the audience to help create the soundtrack through cheering, clapping, gargling water and more.
The report
The full report on the project can be downloaded here.
Live cinema projects in the UK now constitute a vital part of the film exhibition economy, with almost 50% of exhibitors hosting live cinema events (Live Cinema in the UK Report 2016). The majority of source films for live events, however, are of American and British origin. The Live Cinema EU project aimed to replicate the success of such events across Europe, utilising European films. Three European film festival partners, plus Hull 2017 UK City of Culture, worked with Live Cinema UK, King's College London and the University of Brighton over a one year period in the area of live cinema.
OBJECTIVES
Bring together regions currently working in isolation
Establish live cinema events as a novel method of attracting audiences to European films
Create sustainability for new live cinema work
Establish current knowledge of live cinema in host countries and new learning opportunities
GAINS
Increased audiences for participating festivals through large scale live cinema events
New infrastructure: Network for distribution of live cinema events in Europe for first time
International promotion and and PR between participants
Knowledge sharing from high level film programmers at each partner festival
Pilot year success will lead to future applications for an expanded network
GOAL
Larger audience attending each festival due to large-scale live cinema events.
New audiences attracted to festivals who have never attended before
Audience viewing European film they would not usually go to because of live activity – evidenced in surveys and qualitative research before, during and after event through digital partner Boombeam and research partners at King's College London and University of Brighton
METHOD
The participating festivals Motovun Film Festival (Croatia), T-Mobile New Horizons Film Festival (Wroclaw, Poland) and Reykjavik Film Festival (Iceland) were selected as partners for their history of exciting screening locations and live soundtrack events, but had never engaged internationally with the concept of live cinema. Utilising international learning from the UK, the programme consisted of:
3 workshop/seminars in host countries to establish the current scope of live cinema events in that country, with visiting experts from the UK, to inspire programming ideas and cross-country learning.
Four final new live cinema events based on European films; one in each host country plus Hull, UK City of Culture 2017
Audience evaluation and interaction at each event plus build of a bespoke digital platform by project partners Boombeam to encourage audience interaction and data collection
FINDINGS
Full findings are available in the full report, available here.
Key results include:
Live cinema events are effective in increasing audience reach for European films with a high percentage wanting to view more European film from attending a live cinema event (66%)
Live cinema events increase film festival attendance with a high percentage of first time attendees (46%)
Over 700 sessions logged via bespoke digital platform for event interactivity and data capture
BACK TO OUR WORK