Bradford Community Screenings Programme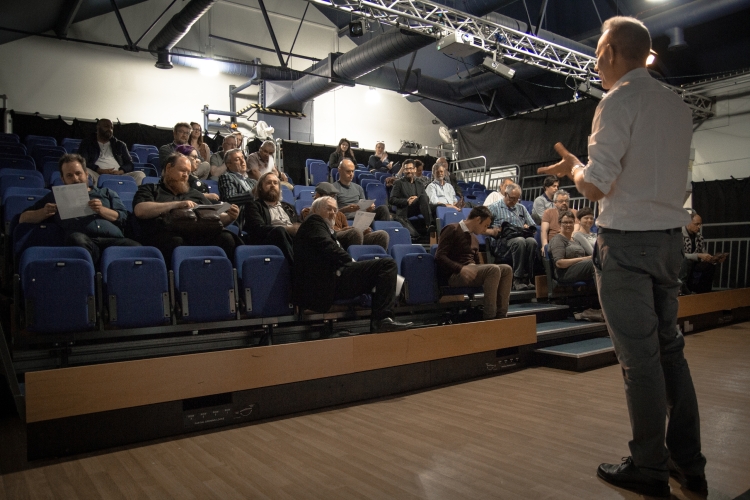 Live Cinema UK coordinated the Bradford Community Screenings Programme, funded by Film Hub North, from July 2016-July 2017 with the aim of engaging diverse communities with specialised film screenings in new venues, with programming, marketing and event production support.
Funded by Film Hub North, part of the BFI Film Audience Network, the programme aimed to work with 10 venues around the city host upwards of 25 screening events over one year. The project was devised as a fitting programme for the world's first UNESCO City of Film, handing over the power of curating a run of screenings all over the city to the people of Bradford themselves.
The project was a huge success with 1235 people at 34 events across 15 venues from 14 different countries of origin, with  100 years of cinema represented with production years ranging from 1908 to 2017.
Audiences were from a vast array of backgrounds, with many never having attended the venue or indeed a world cinema screening before: 65% female, 32% under 30, 27% BAME, 46% new audiences to the venue, and 100% 4*-5* experiences
Just a few highlights from our biggest events:
Full Moon Party – A Trip to the Moon + live score by STEMS at The Wild Woods
Partners: The Brick Box.

Themed around the selection of A Trip to the Moon as a live score screening with local band Stems, an all night moon-themed party ensued in a woodland created inside an abandones Marks and Spencers building. Only in Bradford!
We Are Many + Q&A – Karmand Centre
Partners: University of Bradford, Momentum Bradford, Stop the War Coalition, Momentum

A special free screening of We Are Many followed by a Q+A with Director and Producer Amir Amirani and one of the protagonists from the film, Salma Yaqoob. On the anniversary of the largest protest in human history that brought millions of together against the war, the screening asked what is our legacy and what does it mean for how we work to achieve peace and justice today.

With a grassroots engagement strategy, every single event was held in partnerships with community and arts groups in the Bradford district, including all the below amazing organisations and venues:
Kala Sangam, Politics in the Pub, The Brick Box, Momentum Bradford, Women of the World Festival, Speaker's Corner, Staying Put, Artworks Creative, Delius Arts and Cultural Centre, Highfield Food Co-Op, Karmand Centre, Bradford Stand Up To Racism, LGBT Bradford, Mechanics Institute, Refugee Week, Viva! Bradford, Frizinghall Community Centre & more…
We are delighted to hear than thanks to our programme, Highfield Food Co-Op have received £5000 of funding from Film Hub North to continue their screenings programme. A huge congrats to Warris and the team!
BACK TO OUR WORK